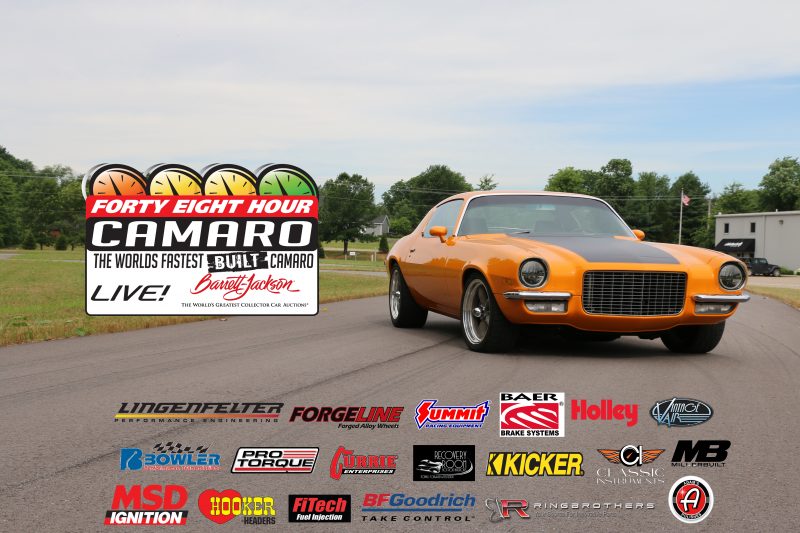 Once again, it is time to pull out all of the stops and build another great hot rod in just 48 Hours.  The fourth 48 Hour project is taking place in January at the 2018 Barrett-Jackson Auction, Scottsdale, Ariz. RideTech and a team of manufacturers will turn a really good 1971 Camaro to  a Pro-Touring masterpiece using the latest and greatest go-fast parts.
Last year's 48 Hour project, a 68 GMC short bed pickup, proved to be extremely successful.  The build unfolded in front of 300,000-plus event attendees at the 2017 Barrett-Jackson Scottsdale Auction. A constant crowd of enthusiasts looked on as the six day (8 hours per day) thrash ensued. One onlooker, in particular, liked the truck so much that he purchased it on the auction block. The eventual buyer  returned daily during the build to check on the progress of his truck.
For this new project, the excitement will continue long after the build and the Barrett-Jackson auction event have concluded. The new 48 Hour Camaro is a keeper. It's not for sale (not yet anyway).  We will show it and race it alongside it's upstart sibling — the new Track 1 Camaro. Like Jekyl and Hyde, the two 2nd Gen cars have starkly contrasting personalities.  The orange 48 Hour Camaro represents a street-friendly, yet highly capable Pro-Touring car, while the caged and carbon fiber-equipped Track 1 Camaro represents a street legal race car. More details on the Track 1 build can be found HERE, but for now, let's focus on the new 48 Hour Camaro project.
We are still discussing part numbers and possibilities with last minute build partners, but most of the key components and systems are set in stone.  The pre-existing 300-horse crate small block is being replaced with a Lingenfelter Performance Engineering 550 Horsepower LS3. The 100% street friendly combination features ported and polished heads a hydraulic roller cam, Holley EFI, MSD ignition and Hooker exhaust. Lingenfelter has developed an exceptional combination of power and reliability. The existing "analog" 700R4 will be replaced with a Bowler 4L65E electronic overdrive transmission with Sonnax Level 3 upgrades and a Pro Torque billet, lock-up torque converter. The existing brakes — discs up front and rear drums — will be replaced with Baer 13″ four wheel disc brakes. Forgeline ML3C 18″ diameter wheels will be wrapped in a set of B.F. Goodrich Rivals. As we plan on driving this car aggressively and competitively, the heavy duty brakes, wheels, tires and suspension are mandatory.
Speaking of suspension, we will, of course, be installing RideTech StrongArm control arms and Tru Turn steering up front with our new "unicradle" design Bolt-On 4-Link kit with a Currie Enterprises Crate 9″ Rear. and trick MillerBuilt floater axle conversion. RideTech TQ Series triple adjustable coilovers will be used all around.
Vintage Air air conditioning will add comfort and reliability while Kicker is providing the tunes.  Tracy Weaver at Recovery Room is already hard at work upholstering the interior panels.  Classic Instruments is supplying the gauges. We will be reaching out to Summit Racing Equipment for a wide range of parts, tools and supplies — both before and during the build process. If we forget to buy anything during the planning stage, the closest Summit Racing Equipment warehouse is just one day away in Nevada.
These 48 Hour builds are grueling — especially the outdoor builds.  Last January, the weather did notcooperate.  On day seven of the build, the team from EA Wraps was working in cold, ankle-deep water.  For this build, we hope to be working in shorts and T-shirts. Weather aside, RideTech and the many 48 Hour build partners love turning wrenches. There is something special about transforming a cool car in front of 300,000-plus onlookers. Enthusiasts monitor progress, ask questions and study the parts that are awaiting installation.
At the culmination of the 2017 build, we were sad to see the 48 Hour C10 sell.  When you build something with your own hands, it's easy to get emotionally attached. For this project, we are thrilled to be taking the new 48 Hour Camaro home. Likewise, we are eager to drive it across the country, race it and show it off alongside the Track 1 Camaro in 2018. Buckle up, this is going to be a wild ride.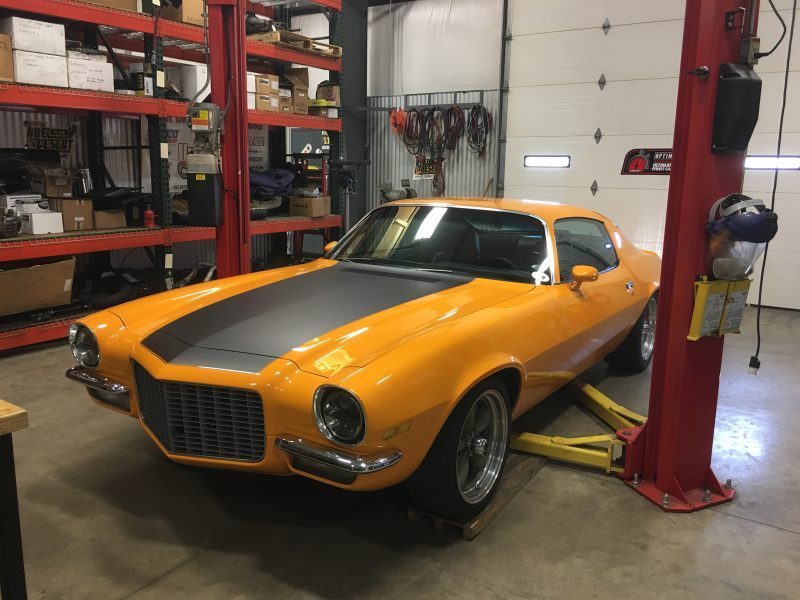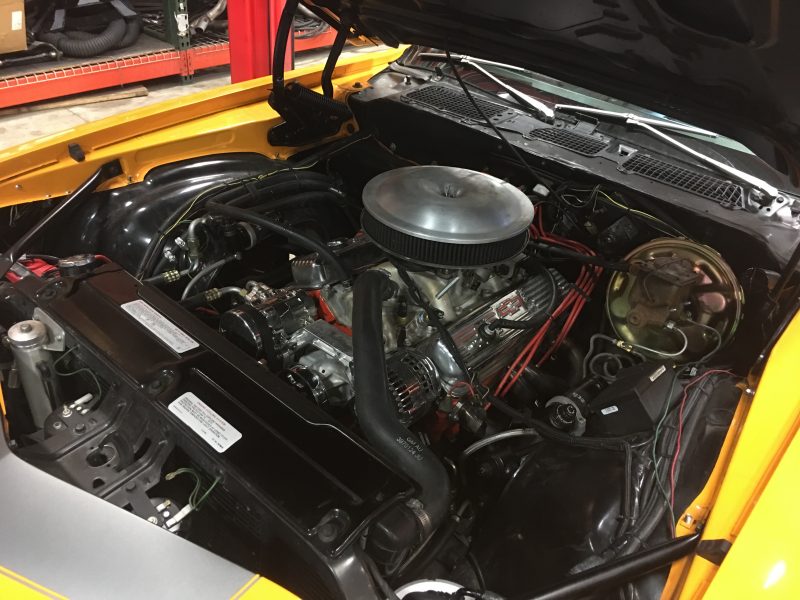 BEFORE PHOTO: The Camaro currently has a Chevrolet Performance 300HP crate engine backed by a 700R4 transmission.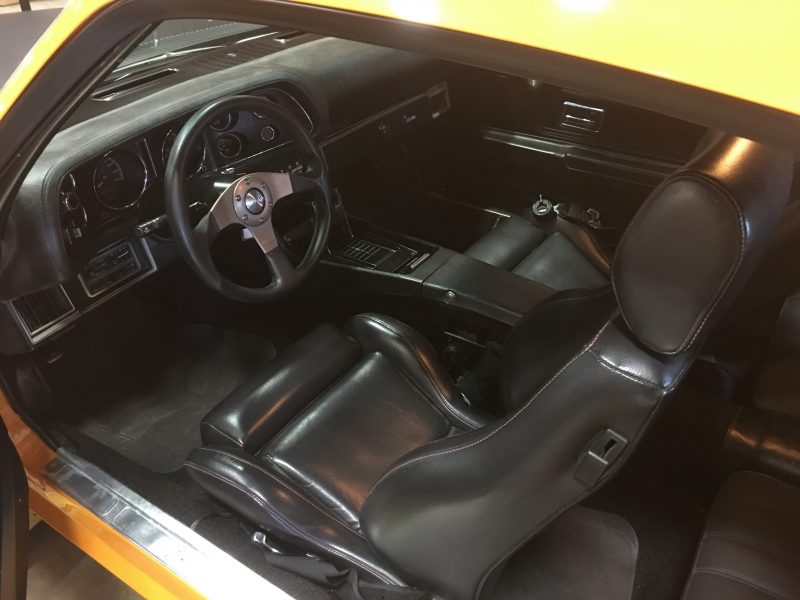 BEFORE PHOTO: The interior is in decent shape. We're going to take it to another level with custom upholstery upgrades from Recovery Room Hot Rod Interiors and gauges from Classic Instruments.
We have done this sort of thing before including the first 48 Hour Camaro, the 48 Hour Corvette and the 48 Hour C10 pickup. The 48 Hour Corvette Build was an extreme thrash with a lot of people working on a very compact car. The 2nd gen Camaro should be easier to work on.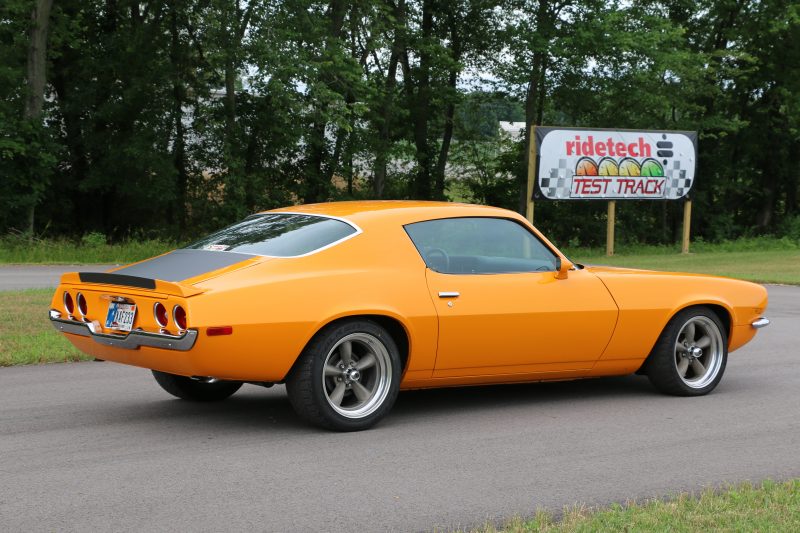 The 2018 48 Hour Camaro is based on an existing development car with a very nice paint job. We have used this car to test various suspension products over the years. Now will turn it into a highly capable pro-touring machine.
**Article courtesy of RideTech** http://www.ridetech.com/info/2017/12/another-48-hour-build-1971-camaro/