Welcome to the Team Tracy!
I did not grow up around racing or motorsports but I have had a love for Corvette since a very young age.  I enlisted in the USAF after high school but didn't own my first corvette until age 37 when I bought a 2005 C6 precision red automatic transmission car.  After buying this car, I quickly joined the Longhorn Corvette Club, in Austin, Texas, and subsequently became a member of National Council of Corvette Clubs (NCCC) and was introduced to low-speed autocross and loved the competition.
I saw my current car, a 2008 C6ZO6 in a dealership showroom in late 2007, and although I didn't know how to drive a manual transmission car, I thought I could indeed learn and win BIG.  I did win the NCCC Ladies National Points Championship in 2008. I also won the Southwest Region Championship in conjunction with the National Championship in 2008 which was difficult to do within the same year.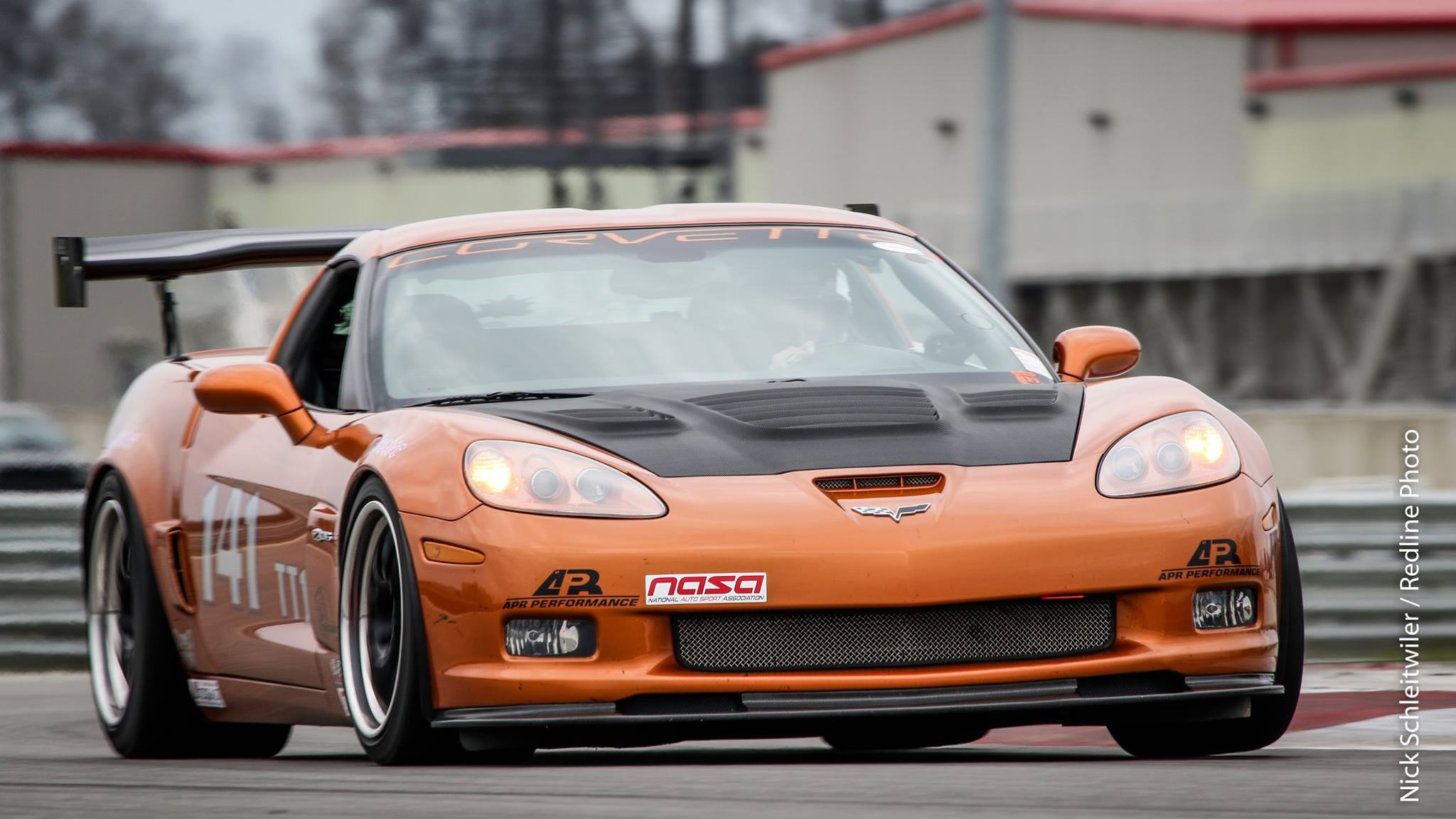 This was a huge year of learning – not only to learn how to drive/race/win events in a car very new to me but also had to learn how to load a car onto a trailer,
trailer it to events all over the country, and change out race tires on the car.  I did this all alone.  I was very driven to get to at least 3 weekends per month so I could maintain my points lead. I did this while working full time as a surgical physician assistant.
I enjoyed the few high-speed auto crosses NCCC put on and won the overall fastest time of day regularly and have class track records at multiple tracks.  I won Overall Top Competitor at NCCC Convention in Topeka in 2012 and had the overall fastest time of day (men/women) for high-speed autocross at NCCC National Convention at Raceway Park of the Midlands in Omaha in 2015.
I continued to enjoy high-speed events and to get more seat time I have attended at least 10 HPDE's/year over the past couple of years all while adding parts to the car to make it more competitive. I needed to get back into the competition so I decided to join NASA and got my TT (time trial) license late last year.  My first event with my license, I scored a podium finish at Roebling Road Raceway in TT1.
Over the winter of 2017, I wanted to really make the car as competitive as possible in TT1 and thought the HP part of the equation would do it.  I looked at
several different engine builders and went with Lingenfelter not only for their reputation but I feel they are the "gold standard" and I wanted the best. I was able to win, my first NASA event in 2018, first place overall out of 24 drivers, in TT at the NASA Great Lakes Region crossover with Central and Mid-South Regions at NCM Motorsports Park on March 23-25, 2018.
I feel the 650 HP LS7 Lingenfelter engine did help make that win happen!!
Looking forward to competing at Hyperfest at VIR May 18 – 20th  competing in NASA TT1 and the Tire Rack's Ultimate Track Car Challenge with my Lingenfelter Performance Engineering sponsored 2008 atomic orange C6Z06.
Super proud to be a part of the Lingenfelter Race Team!" – Tracy Gaudu