We like to drive our cars hard. Everyone makes that claim, but RideTech lives it. Lap after lap and from one weekend to the next, we pound our cars mercilessly. That means we need more than just a powerful engine. We need reliable power. Lingenfelter Performance Engineering thoroughly understands that concept. For the new 48 Hour Camaro, a 1971 model, Lingenfelter is providing a custom built 6.2L LS3 with CNC ported aluminum heads and their impressive GT11 hydraulic roller camshaft.  The engine makes 579 HP @6400 RPM and 487 Ft-Lbs of torque at 5500 rpm.  With more than 400 Ft-Lbs of torque available as early as 2700 rpm, the new 48 Hour Camaro will pull away from corners like a freight train. Likewise, it will idle smoothly with the AC at full blast. In other words, Lingenfelter is supplying the perfect powerplant for this 48 Hour Camaro.
In working with Lingenfelter Performance Engineering, we made a few requests.  We really love LS architecture, but prefer the look of old-school small blocks.  LPE obliged by installing a racy-looking Holley single plane intake manifold along with Holley's MPFI throttle body. A set of Lingenfelter Performance Engineering billet valve covers complete the classic vibe by fully concealing the coil packs. Though we could have relocated the coils, LPE's solution is far more elegant and convenient. We also had LPE install a Holley polished aluminum oil pan.  The design will make it easier for us to install the engine during the 48 Hour thrash.
The pictures below show OE style pulleys and accessories along with a set of dyno headers.  As the car comes together, we will install a Vintage Air LSX Series Frontrunner system along with Vintage Air AC, of course. Frontrunners provide stable belt alignment and tension from idle all the way up to redline rpm and beyond. Hooker will supply the headers with an emphasis on maximum ground clearance. We fully intend to drive this car in a wide variety of environments.
While it is entirely possible to build an engine with more horsepower, we place high emphasis on how the 48 Hour Camaro will be driven.  It is not unreasonable for RideTech to make 20 autocross laps per day for two days, then drive three states away and repeat the process.  Given these objectives, our Lingenfelter Performance Engineering LS3 provides peace of mind as well as significant power.
Look for more engine news and videos — including full walk-around and start-up footage — during the 48 Hour Camaro build at Barrett-Jackson.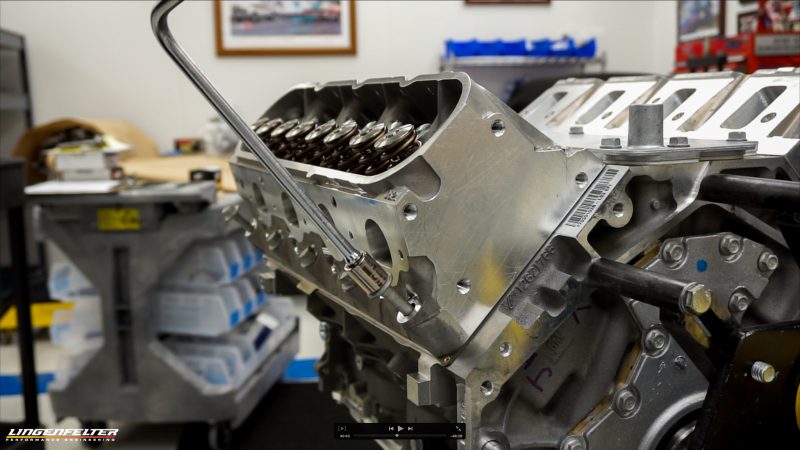 Lingenfelter CNC ported aluminum heads are good for more than 100HP over stock LS parts when used in conjunction with the right cam, compression, induction and exhaust.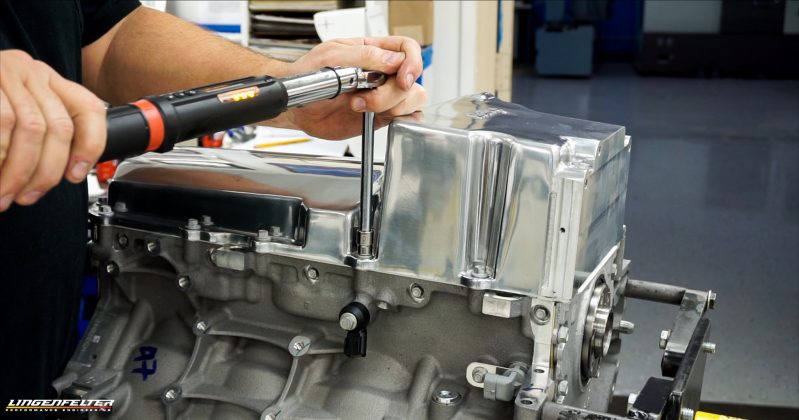 A Holley LS Retro-Fit oil pan was installed. The conversion kit includes a cast aluminum 6 qt pan, sump baffle, oil pump pickup tube, sump plug, oil filter stud, and oil passage cover.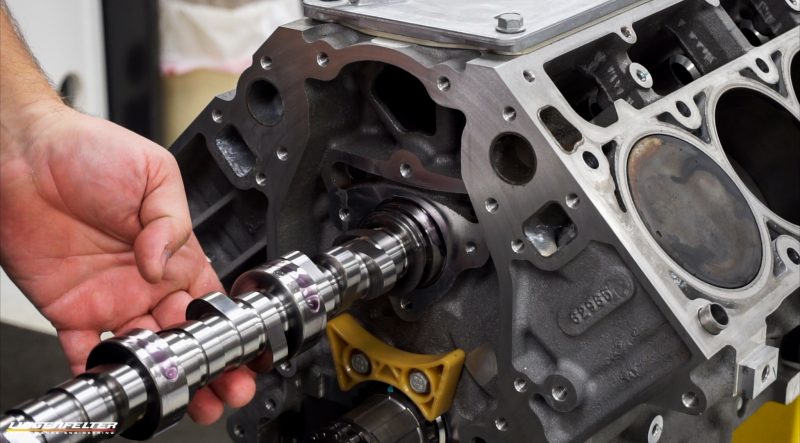 LPE's GT11 cam is one of the most versatile profiles available for LS engines. Specs are 215/231 duration @ .050 with .631″/.644″ lift.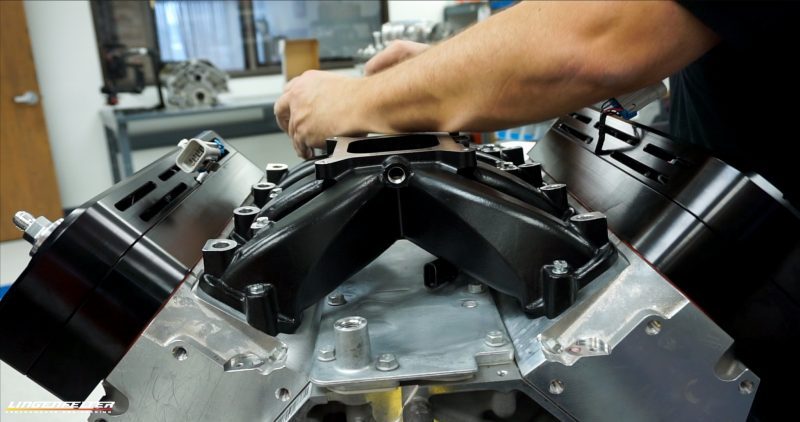 A Holley single plane intake manifold offers plenty of low end grunt plus and sets the tone for classic small block, four-barrel vibe.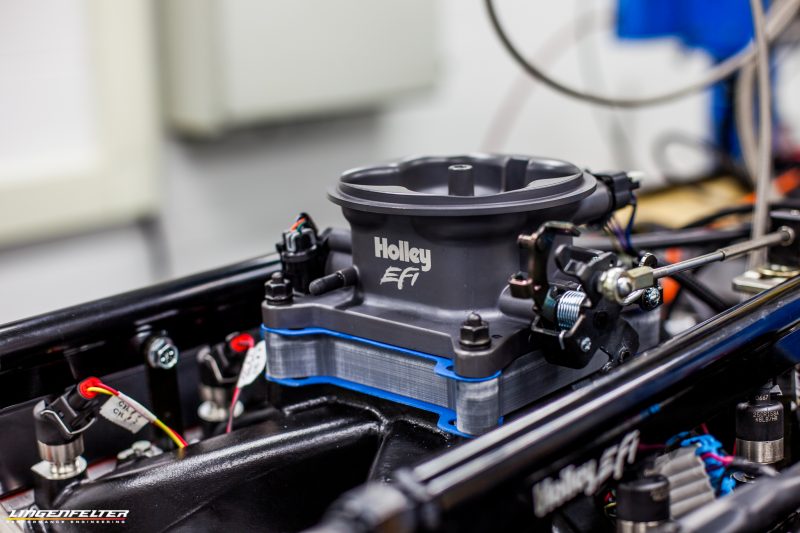 A Holley MPFI Throttle body tops off the single plane intake. The standard flange accepts a traditional 14″ air cleaner.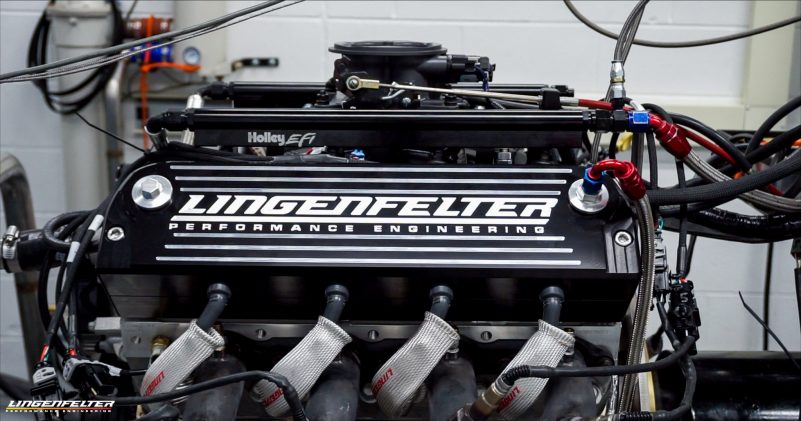 As installed, the finished valve covers fully conceal the coil packs and allow for short spark plug wires. Lingenfelter provided a set of heat-shielding boots.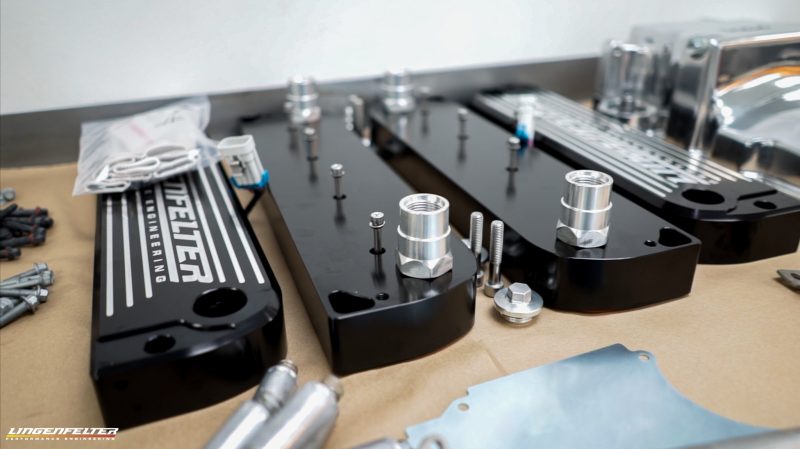 Lingenfelter Performance Engineering offers these multi-piece billet valve covers. The upper covers conceal unsightly coil packs and are vented to let heat escape. Breather tubes fit between the upper and lower covers.