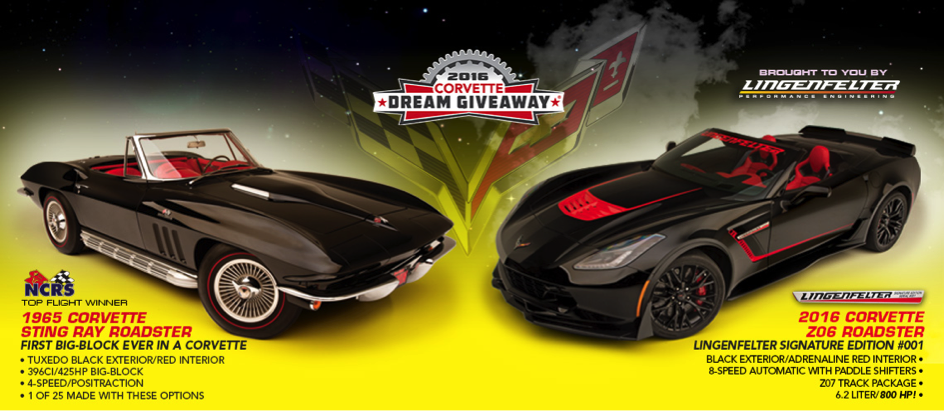 Two Corvettes Will Be Awarded to One Lucky Winner at the Dream Giveaway Garage On February 3, 2017

Special Guests Ken Lingenfelter of Lingenfelter Performance Engineering and Andrew Marshall from Disabled American Veterans will attend.
Gravette, AR – January 27, 2017 – The 2016 Corvette Dream Giveaway, a nationwide drawing sponsored by New Beginning Children's Homes–a charitable organization, ended on December 29, 2016. Sixty-nine-year-old John Wilson of Louisiana was the lucky winning ticket holder. Mr. Wilson will attend the award ceremony at the Dream Giveaway Garage in Clearwater, Florida, on February 3, 2017, at 3PM.
Special guest Ken Lingenfelter, owner of Lingenfelter Performance Engineering (LPE), will attend the award ceremony to present Mr. Wilson with the keys to a classic 1965 Corvette Sting Ray convertible and an 800-horsepower 2016 Lingenfelter Signature Edition Corvette Z06 convertible. The grand-prize also included $50,000 towards the prize taxes.
Lingenfelter Performance Engineering, a globally recognized brand in the automobile-performance industry, is the Presenting Promotional Partner for the Corvette Dream Giveaway. The 2016 Lingenfelter Signature Edition Corvette Z06 grand-prize launches the brand-new Lingenfelter Signature Edition line of ultra-high-performance Corvettes.
Special guest Andrew Marshall, the Past Department Commander for the DAV Department of Florida, Director of Services, will attend the award ceremony on behalf of the national Disabled American Veterans (DAV) organization. Mr. Marshall is a Vietnam veteran who served in the U.S. Army.
The award ceremony will be streamed live on the Dream Giveaway Facebook page at https://www.facebook.com/dreamgiveaways/.
For low-res and high-res photography and video assets, please contact Kim Meyers.
A 2016 Corvette Dream Giveaway spokesperson is available for press interviews for traditional print, broadcast and radio media, and digital-only sites. Please contact Kim Meyers to arrange a press interview.