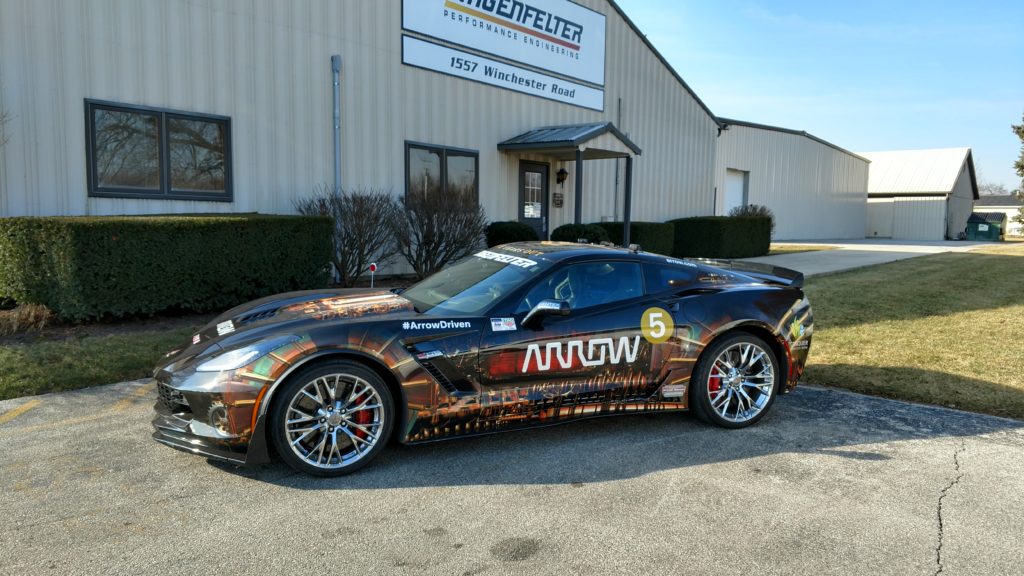 Arrow launched the Semi-Autonomous Motorcar (SAM) project in 2014. The current SAM car is a 2016 Corvette C7 Z06 modified so that a quadriplegic former IndyCar driver, Sam Schmidt, once again can drive using only his head to control the car.
Arrow and Schmidt have driven oval tracks, road courses and mountain summit runs at speeds up to 152 mph. The purpose of the SAM project is not only to push the boundaries of our transportation system, but also to rapidly innovate new technologies in ways never before thought possible.
In September 2016, Sam Schmidt became the first person with quadriplegia in the United States to receive an autonomous vehicle driver's license. He has since driven the SAM car on the streets of Las Vegas, Nevada proving that the technology used in the SAM car is capable of much more than just turning laps.
Lingenfelter Performance Engineering is proud to have partnered with Arrow to further enhance the performance capability of the Arrow SAM car. Original plans were made to push the SAM car's factory LT4 supercharger to its limits. Ideally this would enable the SAM car to achieve more power for high speed runs. With further review of the tasks at hand, Lingenfelter asked Magnuson Superchargers for their support to join this incredible build.
With both partners on board, the SAM car was upgraded to an aftermarket supercharger. The Arrow SAM car will be the first Corvette C7 Z06 in production with Magnuson's NEW LT4 Heartbeat TVS2300 kit.
Together, Arrow, Lingenfelter Performance Engineering and Magnuson are working in the world of Five Years Out to turn what is possible into what is practical and help the SAM car reach its highest performance capabilities. Be sure to follow and share our journey on this incredible build. Stayed tuned for additional photos and video.
For more information, please visit www.arrowsamcar.com.