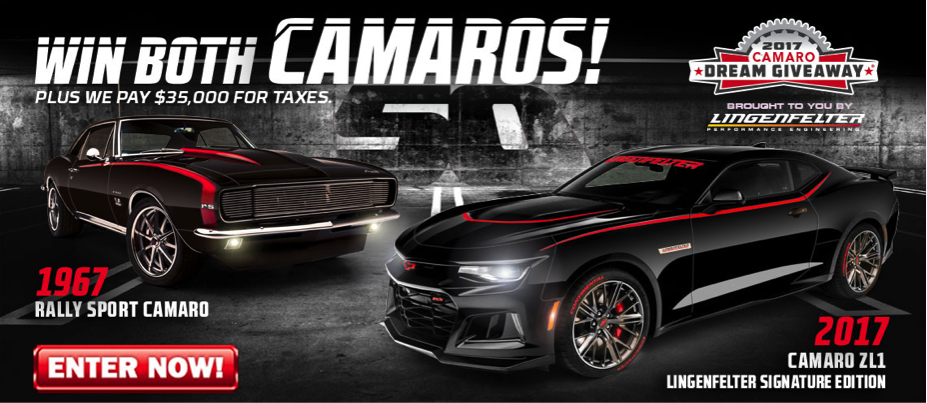 Gravette, AR – February 17, 2017- The 2017 Camaro Dream Giveaway is a nationwide sweepstakes sponsored by New Beginning Children's Homes. The winner of this extraordinary prize package will receive a fully restored 1967 Rally Sport Camaro and a 2017 Lingenfelter Signature Edition Camaro ZL1. The grand-prize also includes $35,000 towards the prize taxes.
On March 11-12 both Camaros will be on display at the 22nd Amelia Island Concours d'Elegance inside the Dream Giveaway tent. Visitors will have the chance to see these two legendary cars up close!
On Saturday, March 11th, the Cars & Coffee at the Concours event will take place from 9AM to 1PM. Over 400 classic and exotic cars from local car clubs will be displayed. Close to 30 Camaros will be on display during the event next to the Dream Giveaway tent. Ken Lingenfelter, the owner of Lingenfelter Performance Engineering, will be there to greet fans.
The 2017 Camaro Dream Giveaway celebrating 50 years of Camaro high performance is brought to you by Lingenfelter Performance Engineering. The 2017 Lingenfelter Signature Edition Camaro ZL1, which sports Serial #001, cranks out 800 horsepower thanks to a 376 cubic inch (6.2-liter) Chevy LT4 Gen 5 small-block featuring a Magnuson supercharger, ported and polished factory cylinder heads, an ultra-high-performance cam, and custom tuning, all courtesy of the horsepower experts at Lingenfelter Performance Engineering.
The 1967 Rally Sport Camaro features a Chevrolet big-block V-8 and a Tremec five-speed overdrive manual transmission. It has a long list of restomod upgrades, including Wilwood four-wheel disc brakes, QA1 shocks, and front coil springs, Billet Specialties suspension, TMI Performance Sport interior, Electric hide-a-way headlamps, LED taillamps, vintage air climate system, and show-quality engine bay with polished aluminum and billet steel. It is painted Tuxedo Black with contrasting Torch Red stripes and a matching black-and-red interior.
You can enter to win both Camaros by going to http://www.dreamgiveaway.com/dg/camaro and making a tax-deductible donation to New Beginning Children's Homes. Use promo code LE0317R3 to get 25% bonus tickets with any donation of $25 or more.
New Beginning Children's Homes (NBCH) is a 501(c)3 provider of family-style long-term residential care with a mission to provide foster children a safe and faith-centered family atmosphere where they can heal, grow, and be loved while working through difficult life issues. In addition to the funding they receive, NBCH will provide grants to several worthwhile charities, including Disabled American Veterans, National Guard Educational Foundation, Smile Network International, Mothers Against Drunk Driving, Bright Pink, and Detroit Rescue Mission Ministries.